I find great joy in giving gifts, no matter the season.  In my house we have already begun to exchange gift ideas with each other.  We  share useful gift ideas and throw in a few "it would be nice to have" gift ideas.   I hope this Healthy Living Holiday Gift Guide will ease your mind about what to get that health minded person in your life.
What kind of gifts do you lean towards giving?  Maybe gifts that would encourage a hobby?
You might like to give gifts that are purely for fun and enjoyment.  I will suggest a variety of gift ideas for you.   So have fun and check out these ideas!
Note about prices:  Whether you are on a tight spending budget or a more extravagant spender, I will include pricey kitchen appliances to simple personal gifts.   Please take a look and bless someone you love with a thoughtful health minded gift.
This post may contain affiliate links.  When you click on the links in the post, a small percentage goes towards supporting this website.  Thank you! 
Gifts for the Cook (to make life easier)
Cuisinart Pro-Classic Food Processor is one appliance that is used at least once a day in our household.
Vitamix 5200 Blender.  This high powered blender is a versatile kitchen tool.   You can make your own flour, cream plantains into a smooth pancake batter, and even prepare your own salsa.  I do recommend purchasing the tamper to go with it.
Lodge Cast iron skillets.  Cast iron skillets will last your cook a lifetime of cooking!  My entire family uses cast iron skillets to fry eggs, cook up stir fry and even bake a frittatta in the oven.
Health Minded Personal Gifts
Young Living Every Day Oils.  The oils in this select collection provide ongoing support for your home, health, and body. Enjoy healthy-looking skin with Tea Tree oil and Frankincense, the relaxing benefits of Lavender and Stress Away, the immune-supporting* power of Thieves Vitality and Lemon Vitality, the uplifting properties of Joy essential oil blend, and much more.  Frankincense and Stress Away are my personal top favorite essential oils.  Shopping made easy:  click on Young Living Every Day Oils  and it will take you right to the products.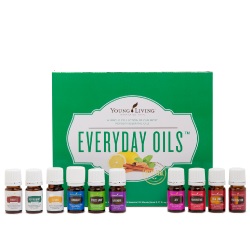 Essential Oils for Personal Health.  The Golden Touch 1™ collection contains four Vitality™ essential oils and three essential oil blends to support your body inside and out. This carefully selected collection is perfect for supporting a healthy lifestyle regimen and keeping your spirits lifted during winter and all year round.
I personally love to use Thieves oil to protect myself while traveling and shopping during the winter months.  My daughters favorite essential oil is a blend called Raven.  This kit contains a wonderful selection of essential oil singles and blend that will tickle that health minded person in your life!   The Golden Touch 1 kit can easily be purchased through this Young Living link.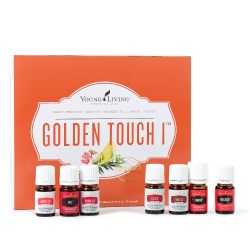 Kettlebells.  Workout at home!  Kettlebells are small and do not require a large space to exercise.  I am still thankful for the 10 lb. kettlebell that my husband gave to me for my birthday a number of years ago.  Note:  Free workouts can be found on youtube.
Gifts for the Home
Dewdrop Diffuser.  Young Living's Dewdrop™ Diffuser functions as a humidifier, atomizer, and aroma diffuser in one simple-to-use product. Inspired by the purity and elegance of a drop of morning dew, the Dewdrop Diffuser's design reflects Young Living's dedication to providing high-quality essential oils. Its ultrasonic technology breaks any mixture of essential oils and water into millions of microparticles, disperses them into the air, and releases the constituents found in Young Living essential oils. Custom designed with up to four hours of continuous run diffusion, automatic shut-off, and ambient light control, Young Living's Dewdrop Diffuser can transform any space into a spa-like atmosphere.  Shopping made easy;  click on Young Living Dewdrop Diffuser.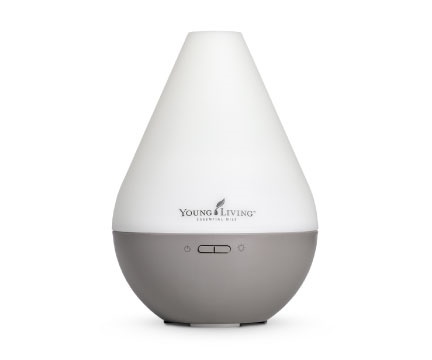 Himalayan Salt Lamp.  A health minded person will want one of these lamps in every room in the house!.  It's a natural air purifier that comes with a host of additional health benefits.  Check out this Natural Living Ideas website for more information on why you want salt lamps in your home.
Wool Dryer Balls.  Replace dry sheets and reduce wrinkles with every load!
Books to Encourage Healthy Living
Cookbooks.  I like cookbooks with great pictures and that have easy to follow instructions. I highly recommend this book by Danielle Walker.
"How to Use" Essential Oils Book.
Gratitude Journal.  Cultivating a heart of gratitude is one part of a healthy lifestyle.
Healthy Living Gifts that Pamper
Chocolate.  You knew this had to be at the top of the list!  Eating Evolved has an excellent reputation for creating healthy products using organic cacao.  Their motto is "Chocolate:  It's food, not candy."  You can buy their products directly through them at www.eatingevolved.com.
Botanical Facial Wash and Anti-aging Eye Serum.  Nerium eye serum is the only botanical multi-functional product that immediately diminishes the appearance of fine lines around the eye area.  It's a mini spa for your eyes!  Order Age-Defying Eye Serum here.
Bath Salts.  Relax and enjoy the benefits of this botanical blend of salt and essential oils in your warm bath.
The Gift that Requires No Wrapping:  Time!
Spending time with the people you love this Christmas season is one of the healthiest gifts!  Take a walk together, play a board game around the fireplace, or look at old photo albums.  How do you like to give the gift of time?
I hope Healthy Living Holiday Gift Guide gave you helpful decisions for making purchases for the health minded person in your family.  Next month look for Healthy Living Stocking Stuffer Ideas for young and old!